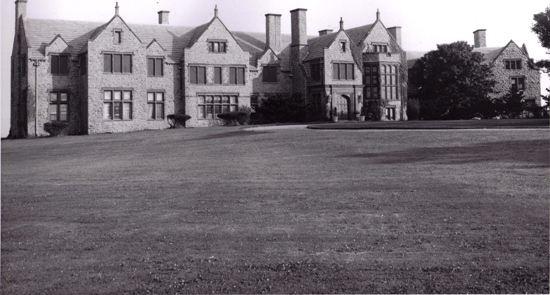 First built in 1887 for Frederick Vanderbilt as a tudor summer retreat (and later owned by William B. Leeds), Rough Point was bought in 1922 by the enormously wealthy James B. Duke, benefactor of Duke University and his second wife, Nanaline. After several major renovations (including the addition of a ballroom and service wing, and the removal of most of the tudor features) the Dukes moved in. The Duke's had one child, a daughter, which they named Doris.
Doris Duke, The Billionairess, Philanthropist, Socialite, Art Collector, Preservationist And Founder of The Newport Restoration Foundation
James Duke died in 1925, leaving the bulk of his entire fortune (a reported $100 million) to Doris, then age 12. Her inheritance also included the Duke mansion in New York City, Rough Point and Duke Farms in New Jersey. Because of her age, though, Doris couldn't claim her inheritance until she turn 21, 25 and 30. The fortune would be stored in a trust until she could claim it, the interest going to Nanaline.
Doris Duke Was The Richest Girl In The World
Rough Point, twice coming close to being sold by Nanaline, became one of Doris's most prized properties, second only to her beloved Duke Farms. After the New England Hurricane of 1938 and with the oncoming World War, Mrs Duke and Doris moved to New York City permanently, Nanaline emptying Rough Point of all it's furnishing and boarding up the house. When she died in 1962, Doris returned to Newport and turned her attention to Rough Point. She began purchasing art and antiques for the house, which she combined with Duke Family heirlooms. She continued to collect furniture for the home, summering there May through November.
The Ballroom/Music Room At Rough Point, Added By Horace Trumbauer For James B Duke
In 1966, Doris and her interior designer, Eduardo Tirella, were leaving Rough Point by Station Wagon when Tirella got out to go unlock the gates. Doris slid over to the driver's seat and accidentally hit the accelerator, catching Tirella with the car and dragging him across the street, where he was crushed up against a tree, killing him instantly. Doris was not charged and Tirella's death was recorded as a accident, a shockingly speedy resolution. Coincidentally, a week after the case, Doris wrote out a check for $25,000 to restoring Newport's Cliff Walk (something she had always been firmly opposed to) and 5 months later Police Chief Joseph Radice (The man who had led the investigation) suddenly retired.
In 1968 Doris and her friend Katherine Warren (Founder of the Preservation Society of Newport) established a plan to preserve several of Newport's colonial homes. Doris named her new foundation The Newport Restoration Foundation. The foundation would be one of Doris's favorite charitable organizations, she would end up donating millions to it.
In 1993, Doris died of a stroke at her Falcon's Lair Estate. She had appointed Bernard Lafferty, her notorious butler, and Marion Oates "Oatsie" Charles, a famed Newport and Georgetown hostess, one of Duke's closest friends, as co-executors of her $1.3 billion estate. Lafferty died in 1996, and new executors were appointed. They included Harry Demopoulos (debtor to the estate), J. Carter Brown, Marion Oates Charles (the sole trustee from Duke's last will), James Gill and John J Mack. Today, Rough Point is owned and managed as a house museum by The Newport Restoration Foundation, where Marion Charles still serves as President.