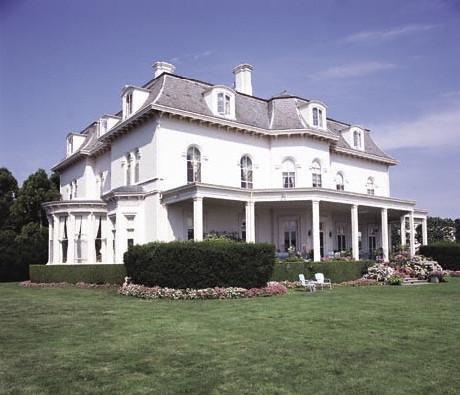 The recently found ground floor plan of 'Beaulieu' cottage
in Newport, RI. 'Beaulieu' was originally the estate of
William Waldorf Astor. After the infamous feud with his
New York Society queen aunt Caroline Astor ~ who
spent her summers in nearby 'Beechwood' ~ he sold the estate.
The property ended up being rented by Cornelius and Grace
Vanderbilt. 'Beaulieu' was Mr Vanderbilt's favorite home, where
he spent his time away from his yacht. The Vanderbilts purchased
the home outright and Grace summered there every season. After
Mrs Vanderbilt's death in 1954, he son sold the estate.
Mrs Grace Vanderbilt ~ The Queenly Kingfisher
The estate then fell into complete and awful despair. The estate was
rotting all over and was completely unrecognized. Then one day
Wiley T Buchanan, Chief of Protocol for President Eisenhower,
and his wife Ruth were walking along the Cliff Walk with a friend
who lived at 'Clarendon Court' and they came upon the ruined
beauty. Buchanan, after touring the house the next day, told his wife
"We must buy this house". They purchased the home and resorted
the beauty; Summering at the estate every season. Today, Mrs
Buchanan ~ now remarried ~ Ruth Buchanan Wheeler ~ still
lives at the estate,